C. C. Architectural is comitted to helping the A+D community expand the possibilities of the use of leather. Our LOKtm and LeatherTiletm products have been used in a wide range of applications, and our portfolio of satisfied customers continues to grow. Here are a few of the most recent applications of our products:
World Trade Center, Accra, Ghana
Interior walls faced with LeatherLOK using vibrant colors of Xtreme Outdoor leather.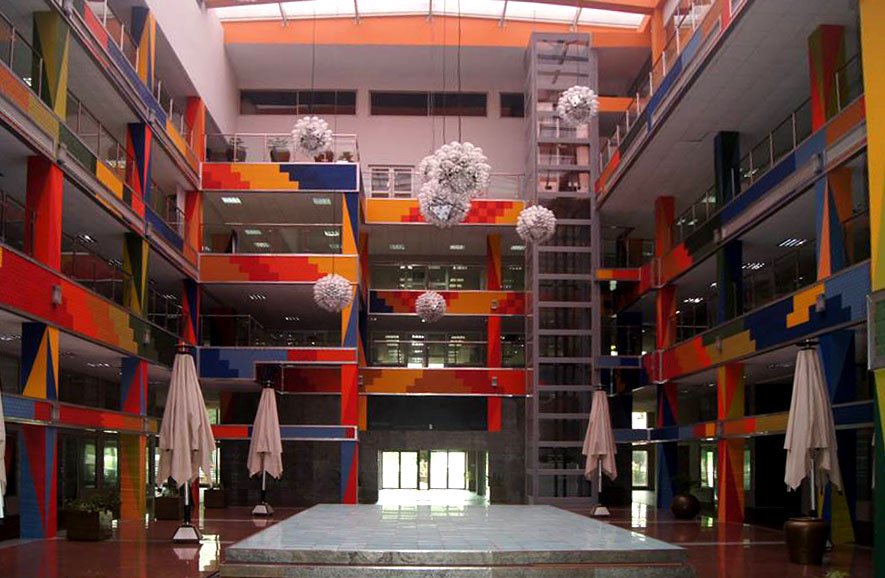 Our local installation crew in their LeatherLOK T-shirts: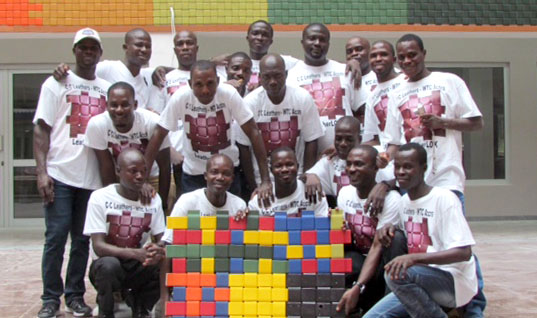 First American
Design: LaBella Associates, PC
Photography: Studio2b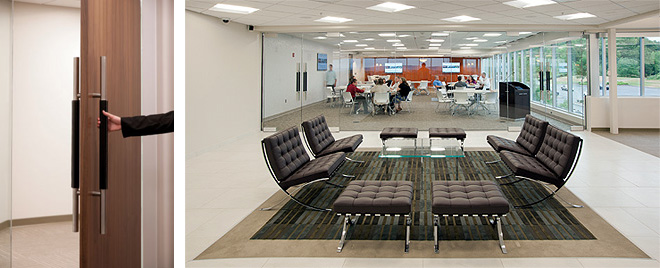 Whistler, BC Condo
Whistler, BC condo designed by Susan Collins of SMC Design. LeatherTiletm TI6505 Noce inlaid floor and bar top; barstools upholstered in Bistro River leather.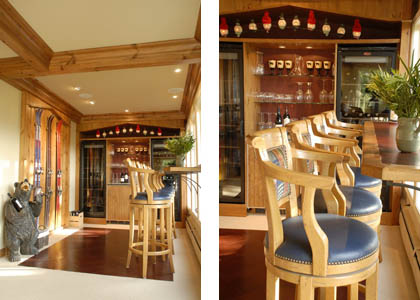 The Keg, Montreal
C. C. Architectural's LOKtm product was prominently featured in a prestigious new addition to The Keg family of restaurants - the new Keg located at Place Ville Marie in Montreal. Once again, this successful organization chose C. C. Leathers to provided the leather used throughout the restaurant.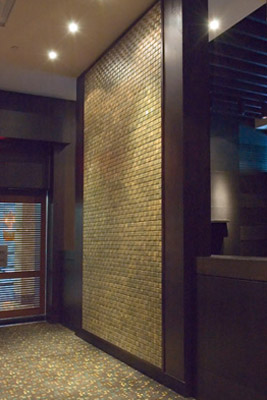 The Keg, Place Ville Marie, Montreal.
Photo: Peter Beck
LeatherLok Bar Front, Sarasota, FL
C. C. Architectural's LeatherLoktm was chosen by Kurt Lucas of JKL Design Group, Inc. for this bar front in a private residence in Sarasota, Florida.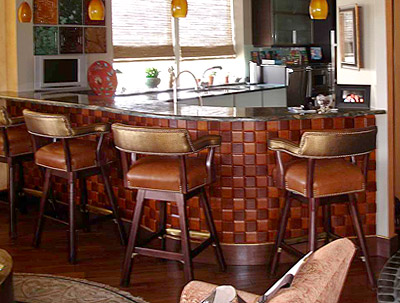 Hotel Le Germain, Toronto
C. C. Architectural's LeatherTiletm was recently utilized in private bar and room storage areas of newly remodelled luxury suites at one of Toronto's most prestigious boutique hotels - Le Germain.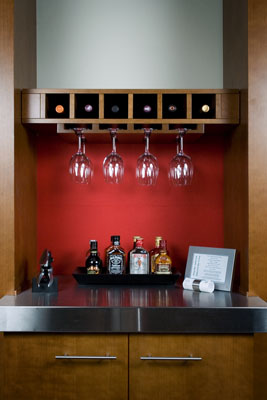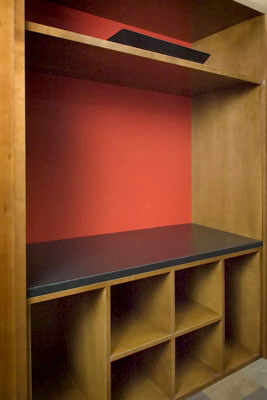 Le Germain Hotel, Toronto.
Photo: Peter Beck
KI Restaurant, BCE Place, Toronto
C.C. Leathers Inc provided the leather for one of the most exciting new restaurants in Toronto - KI, at BCE Place. This luxurious 9000 square foot space utilized C. C. Architectural's LeatherLoktm product for a unique architectural treatment of both walls and cieling. As well, C.C. Leathers was proud to provide the leather used throughout on the restaurant chairs and banquettes.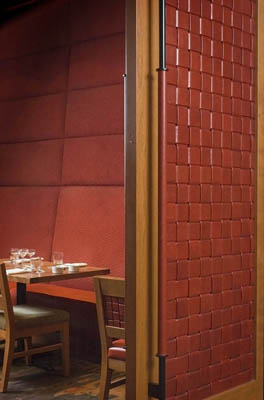 KI Restaurant, Toronto.
Photo: Peter Beck
Gallery Grill, University of Toronto
The Gallery Grill, located in historic Hart House, University of Toronto, boasts "the city's best brunch" according to noted restaurant critic Joanne Kates. It also boasts a beautiful treatment of the Grill's bar, utilizing our LeatherTiletm as the bar surface, a LeatherTiletm covered credenza used for the storage of wine, and features leather-covered drawers in the bar service area.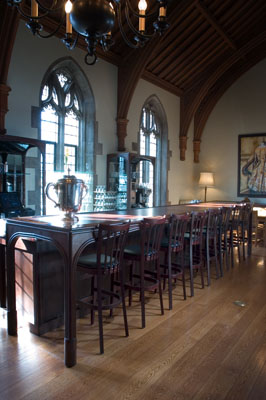 Gallery Grill, Toronto.
Photo: Peter Beck
University of Toronto School of Architecture/PCL Seminar Room
This modern space was designed by Giannone Associates Architects Inc. In this application our LeatherTiletm was specified as the seating cover, demonstrating the versitility of this unique product.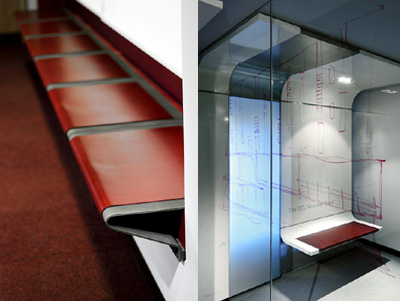 PCL Seminar Room, University of Toronto.
Photo: Richard Johnson/Interior Images
Hy's Steak Loft, Winnipeg
BOTI specified LeatherTiletm as the interior treatment of the elevator for Hy's Steak Loft, part of the legendary Hy's chain of restaurants.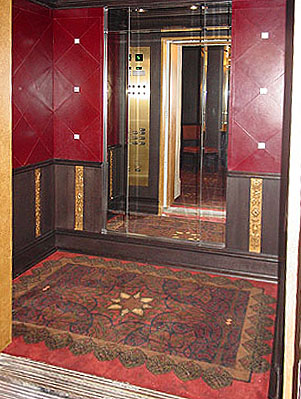 Hy's Steak Loft Elevator, Winnipeg